The likes of the world's great explorers have no problem raising funds for their next expedition – Ranulph Fiennes only need hiccup and the corporate sponsors are lobbing huge bundles of cash at him. And there's nothing wrong with that – you don't get to be name the 'greatest living explorer' unless you've proven yourself.
But what about the rest of us? How we – the as yet undiscovered next generation of greatest explorers – drum up the interest and money needed to mount a big expedition?
For most of us the question of how we fund an expedition is the probably the last we ask. After all, there's so much planning to do, an infinite number of routes to choose from and the excitement that comes thinking about the numerous post-expedition interviews to accept, or turn down, as we see fit. With those heady thoughts in mind it's easy to see why the finance question is pushed to the back of the queue. We certainly need to have an idea of the planned journey otherwise there is no way we could calculate the costs required to make our dream come true.
The harsh reality is that the vast majority of would-be explorers will never build a business that will fund the often huge price tags attached to major expedition – many people simply don't have the time, or desire, to follow this path. Besides, who really wants to wait 10 years for their business to become profitable enough to fund their dream?
I've done some digging for ideas you can use as alternative ways of raising money. I've noted which methods I've tried as well as the degrees of success, or not, each one has brought.
Trade An In-Demand Skill for Cash
Good, old fashioned selling yourself to the highest bidder. Everyone has a skill they can trade, some being more lucrative than others. I'm a public speaker – I've given talks to Microsoft, twice, as well as some of their partner companies. I've also had the absolute pleasure to be invited in to present to numerous schools – none of the latter were paid gigs, but do a good job and your name will carry far.
Crowd Fund Your Expedition
Crowd funding used to be the preserve of entrepreneurs and techies – with great ideas that could change the world. In recent years a number of explorers have used platforms such as Kickstarter and IndieGoGo to source fudning for their journeys, with some impressive results.
Here are a couple of examples:
One point to note is that you must have something to offer – a really compelling trade which is, ideally, unique and in limited supply.
Sell Your Life
We're heading to the fringes of what's reasonable, but this idea might just work for some people as it has been proved to be an effective way of raising cash. In recent years countless people have sold pretty much everything they own – houses, cars, the pets – in order to raise money to support their travel plans. This might seem like a crazy idea and can work. A word of caution: know what you're getting yourself into as there are stories spattered over the web that detail the not so romantic aspects of this approach to fund raising.
Some great examples of people who sold their life include Jay Kannaiyan and Nora Dunn (the latter having travelled through 30 countries in the last 7 years).
Sell Your Body… To Advertisers
Having a company logo inked into your skin might be a little extreme for some, but as a means to bringing in a large sum of cash as short notice it's a very effective tool. One human billboard, American Joe Tamargo, claims to have raised $200,000 through the sale of advertising space on his flesh.
A word of warning: many of the logos have outlived the companies that paid for them and having a permanent tattoo removed can be a costly exercise.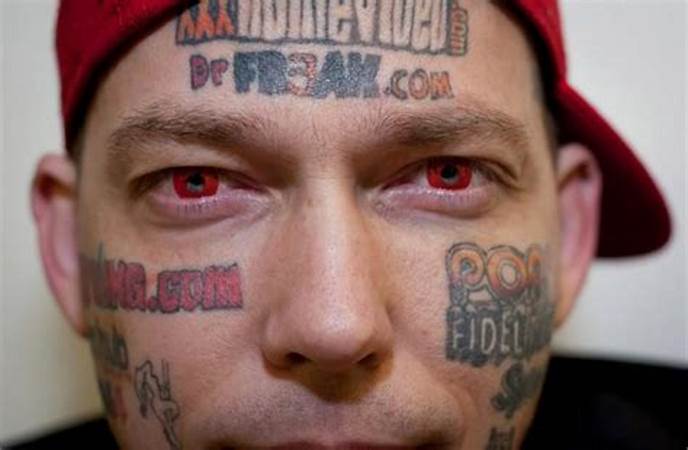 Let me know your thoughts in the coments.