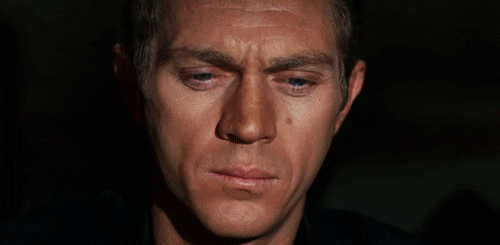 Discover & share this Steve Mcqueen GIF with everyone you know. GIPHY is how you search, share, discover, and create GIFs.
How to be a legend. Without trying.
Steve McQueen was Hollywood's 'King of Cool' in the 1960s. His looks, effortless style and anti-hero persona helped stamp his mark on the history books of the big screen.
McQueen ran away from home at a young age, spent time in the United States Marine Corp and then transitioned to acting. His role as Bullitt is iconic. I dare you to watch the film and say that man doesn't smoulder!
He made awesome look easy. He became a legend in his time. His status endures.
But do you need to be a Hollywood icon to become legendary?
No.
Let's take another example, one more close to us and not in the fantasy world of Hollywood.
In the town where I live, there's man who roams the streets. He dresses in a British Army uniform that carries an UK Special Forces logo on the right jacket sleeve. Trust me, he's no former operator.
Sad to say, some people view this guy as a threat or worse, a criminal. The so-called 'Walter Crumper Hunter Club' delights in outing people who claim military service where none exists. But he's not a malicious character; he's simply a person with deep mental health issues which become obvious when you pause to talk to him.
He'll tell you about his time on operations, carrying out missions he can't discuss. His tales carry an undertone of daring and danger. You can't draw out any particulars because, as he says, they're subject to the Official Secrets Act.
But his stories are fake.
So what makes this man a legend?
He cares.
And turns thoughts into actions.
Watch him roam the streets. From time to time he will pause, tipping some of his no doubt precious coins into the cup of a homeless person. Yes, he'll then take time to weave more of his stories, but it's no doubt a fair trade. Especially when you see the world through the lens of poor mental health.
Watch him a little longer. You'll see his eyes are always alert, always scanning. When he spots an elderly person waiting to cross the road he moves at a pace that would win gold in the Olympic 100m. If his offer is accepted, he guides his charge across the road with care and attention, then offers a few words before parting.
That, my friends, is a legend. A person who takes time to care for others and offer a hand where none is ever expected.
More important, this sense of duty rises within a man who battles his own demons. I've known some dark times and, like me, I'm sure his forays onto the high street are a useful tool for silencing the voices if only for a short time. Being in the world, amongst other humans, is vital to maintaining some semblance of normality.
Other people like this exist, all over the world and hidden from plain site.
Take my virtual friend Huw, a man passionate about the environment and whose many beautiful photos of Greenland adorn his Instagram feed. He's another legend you've never heard of. His take on life is simple: save the planet and enjoy the bounty nature has provided us.
Think of all the children around the world who attend school and have the double responsibility of caring for parents suffering from illness.
Think about your neighbour who lives in the perpetual grief of losing a son, or daughter, yet strives to change laws and make the world a less dangerous place.
Think about the veteran you saw on the Tube or the bus, the one whose state of the art prosthetic leg marks him out a person who gave so that others can be free of the horrors that extremists and conflict wreak upon society.
But most of all, think about yourself and what you can do. One kind act – reaching up to the top shelf to pluck down a can of beans because they're too high to get at from a wheelchair – makes you a legend.
I'm not saying you have to aim big to make a difference. You don't need to make a sacrifice. And you certainly don't have to expose yourself to the gruelling SF selection process to become a legend.
The art of being a legend starts with one thought, one of many you've already had in your life. The key is to make that thought an action, one that, even for a short time, makes others feel safe and cared for. Stop for a moment and ask yourself what you can do not for the world, but for one other person.
If you're having those thoughts right now, then you're already halfway to being a legend. If not, go make yourself lengendary. Your actions will be appreciated.
For me, the benchmark is to be like that man who wanders the streets in full uniform. I don't know the full story of his life, only enough to feel sad about the experiences he's endured. My uniform was handed back to the stores many years ago. My beret and stable belt are tucked away at the bottom of my wardrobe. My memories of those times are, happily, distant.
We can all be legends, no matter what dice life has rolled for us.
And you? By taking one moment to think AND act for the good of others, you're already a legend